Welcome...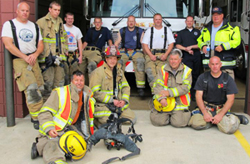 Welcome to the Lititz Fire Company web site. We are an all-volunteer fire company that covers Lititz Borough, Warwick Township, and a small portion of Penn Township. Our 25 active members are supported by a company that is 45-strong and responds to 400 calls a year, on average.
Take some time to explore the pages of this web site and check out our social media sites too.
Of course, nothing can replace an in-person visit. If you are interested in joining our committed group of professionals, we'd be happy to meet with you and see how we can best work together in our mission to serve and protect this great community.
Stay Safe,
Michael R. Smith
Fire Chief